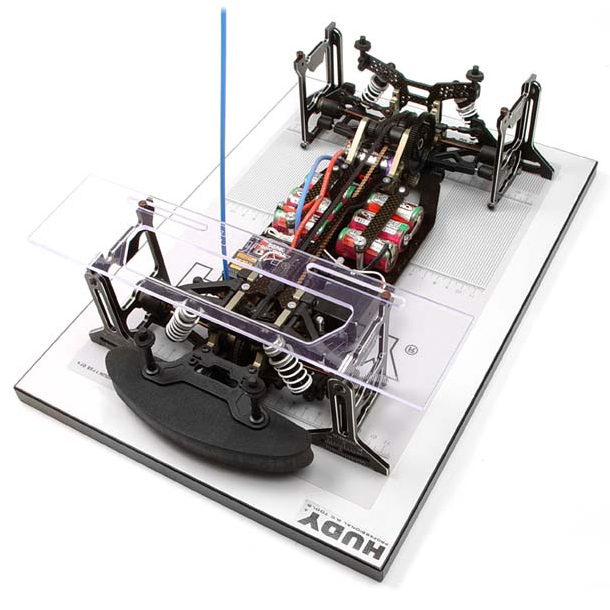 Visa ši modelio reguliavimo teorija yra ITIN SVARBI norint priversti modelį puikiai slysti. Mažiausi pakeitimai puikiai atsispindi modelio elgesyje. Norint sureguliuoti modelį specifinei trasai reikia nemažai laiko ir kantrybės. Atminkite, geras setup'as - 50% važiavimo sėkmės. Norint tiksliai susireguliuoti modelį, reikalingi Setup Station'ai, kad dabar kiniečių gamintojų dėka yra prieinama kiekvienam. Tad kas nori gerai važiuojančio modelio, tam Setup station'as is a MUST!
Ratų išvirtimas
(angl. Camber) - ratu išvirtimas tarp viršutinio ir apatinio ratų kampo.
Paprastai kalbant, didelis ratų išvirtimas sumažina ratų sukibimą. Mažas išvirtimo laipsnis, duoda daugiau sukibimo su danga.
Tačiau, dėl to, jog RC drifto padangos susidevės iki visiškos plokštumos, galiausiai gausime 0 laipsnių camber'į, todėl nėra tikslo važinėtis su milžinšku ratų išvirtimu. Teigiamas ratų išvirtimas drifte nėra naudojamas, tad tiek RC modelyje, tiek tikroje mašinoje, kad ir kiek matysite nustatyto camber'io, jis visą laiką bus neigiamas. Važiuojant su labai dideliu neigiamu išvirtimu (5-10*), jausis, jog modelis yra labai lengvas ir "judrus", tačiau to pasekoje, važiuoklė pataps "nervinga" ir truputi nenuspėjama. Mažesnis camber'is pavers važiuoklę stabilesne, bet ne tokią judria, kaip kad naudojant žymiai didesni ratų išvirtimą. Tačiau atminkite, ne vien camber'is žaidžia šiame reikale.
Nustatinėjant važiuoklės parametrus, rekomenduoju iš karto pradėti nuo ratų išvirtimo, o tik tada eiti prie suvedimo ir casterio. Suvedimas nėra fiksuotas parametras, todėl keičiant ratų išvirtimą, proporcingai keisis ir suvedimas. Kad to nebūtų, kaip ir minėjau anksčiau, pradėkite viską nuo camber'io.
Kasteris
(angl. Caster - castor)
Kasteris yra vienas tų dalykų, kurio principą yra sunkiau paaiškinti, tačiau paprastai tariant tai yra parametras kuriuo galime reguliuoti vairavimo jautrumą.
Didelis kasteris leidžia modeliui posukiuose važiuoti jautriau, "aštriau" elgtis pačiame posukyje, tačiau ne taip stabiliai, kaip su mažu kasterio kampu.
Naudojant didelį kasterį, modelis persimetinės greičiau ir lengviau, tačiau kaip ir rašiau, dėl to kenčia stabilumas, taip pat važiuoklė bus linkusi labiau oversteer'inti.
Mažas kasteris atsispindės tuom, jog važiuoklė bus vangesnė ir sudarys trupučio understeer'inimo jausmą.
Važiuojant su dideliu kasteriu, modėlis geriau ir greičiau reaguos į gazo nuspaudimus, tačiau tai reikalauja valdymo sugebėjimų, norint, kad važiuoklė nuo jūsų "nepabėgtų" t.y. neužsisuktų ar kitaip nepakeistų savo trajektorijos.
Suvedimas
(angl. Toe)
Tai kampas, kuriuo ratai žiūri arba į šonus arba į vidų, važiuoklės centro atžvilgiu.
Trumpai tariant, suvedimas į vidų važiuoklei suteikia stabilumo, į išorę - leidžia lengviau persimest posukiuose , tačiau dėl to kenčia stabilumas.
Suvedimas yra labai svarbus parametras reguliuojant važiuoklę. Maži pakeitimai gali turėti labai didelę įtaką modelio valdomumui.
Suvedimas į vidų (toe in) - labai stabili važiuoklė, tačiau ne toks geras važiuoklės atsakas į veiksmus.
Suvedimas į išorę (toe out) - leis važiuoklei LABAI greitai keisti važiavimo kryptis, žymiai greičiau persimetinės. Per daug toe out'o privers važiuoklę understeer'inti ir bus žymiai sudėtingiau išlaikyti ilgą, tolygų slydimą.
Kaip taisyklė, visuomet modelyje toe out'as yra priekyje, toe in'as gale.
Šis parametras yra labai paprastas ir lengvai reguliuojamas, o menkiausi jo pokyčiai puikiai atsispindi modelio valdomume.
Taip pat neužmirškite, jog suvedimo nustatymai priekyje turi įtakos Ackerman'o kampui! Apie jį pakalbėsime vėliau.
Ackermano kampas.
Tai kampas tarp vidinio (vedančio) ir išorinio rato, susidarantis kuomet vairas yra susuktas.
Didelis Ackermano kampas leidžia greičiau keisti kryptį, tačiau sunkiau yra išlaikyti slydimo kampą.
Mažas Ackermanas leidžia lengviau išlaikyti slydimo kampą, tačiau sumažina modelio atsaką į veiksmus t.y. ne taip greitai persimetinėja posūkiuose.
Dėja, šis parametras yra pakankamai sudėtingas ir reikalaujantis nemažo dėmesio.
Ackermano kampas paprastai naudojamas norint padidinti arba sumažinti išorinio rato pasipriešinimo jėga važiuojant posukyje, taip pat naudojamas, kuomet norima nustatyti modelio valdomumą slystant šonu.
Kuomet yra važiuojama įprastu "lenktyniniu" stiliumi, vedantysis ratas posukyje nukeliauja trumpesnį atstumą negu išorinis. Taigi pavyzdžiui, jeigu Jūs važiuojate su daug suvedimo į išorę, išorinis ratas bus pasisukęs mažu kampu, o vedantysis bus susuktas pilnu kampu. Kadangi mes slystam šonu, paprastai dideli Ackermano kampai virsta kliutimi, jeigu yra siekiama palaikyti pastovų greitį ar slysti šonu kaip įmanoma realistiškiau.
Tačiau, suvedimo reguliavimas arba "anti-ackerman" tipo knuckles'u naudojimas, turi labai didelę įtaką sprendžiant Ackermano dilemą.
Scrub'o radiusas ir vairo ašies nukrypimas.
Kryptinis knuckles'o judėjimas, kuomet vairas yra susukamas.
Platus scrub'o radiusas-spindulys leidžia greičiau užsimesti posukiui, mažesnis spindulys - suteikia daugiau bendro stabilumo.
Vairo ašies nukrypimas yra pakankamai sudėtingas dalykas, kadangi tai turi didelę įtaką del to, kaip jūsų modelis reaguos į jūsų veiksmus. Tai yra parametras su kuriuo turėsite truputi pažaisti, kol perprasite visą šitą reikalą. Ratlankių offset'as, spacer'iai, kingpin'o nukrypimo kampas ir t.t... visi šie faktoriai, turi labai didelė įtaką VAN kampui.
Pavyzdžiui:
11mm offset'o ratlankis, paprastos apatinės šakės arba 8mm offset'o ratlankis ir modelio plotis padidintas 3 milimetrais rezultate paliks ratą toje pačioje pozicijoje, tačiau Scrub'o spindulys bus visai kitoks.
Modelio plotis ir ratlankių offset'as.
Kuo platesnė važiuoklė, tuo daugiau sukibimo slystant šonu, bet mažesnio jautrumo valdomumas.
Važiuoklės plotis ir ratlankių offset'as, kaip prieš tai minėta, taip pat turi įtakos Scrubo spinduliui, tačiau tai taip pat turi įtakos ir tokiem dinaminiam faktoriam, kaip riedėjimo centrui, svorio paskirstymui ir t.t.
Ratlankių offset'as, priešingai nei tikrų automobilių, didėja, kuomet didėja skaičiai, taigi 3mm offseto ratlankis bus zymiai labiau sulindes i vidų negu 11mm ratlankis. Didinant ratlankių offset'ą, didėja ir važiuoklės plotis, taip pat kuo didesnis offset'as, tuo daugiau dinaminio judėjimo jūs sukuriate.
Amortizatorių pozicija.
Tai kampas kuriuo yra pasviręs amortizatorius tarp viršutinio tvirtinimo ir apatinės šakės.
Kuo labiau pasviręs amortizatorius, tuo mažiau sukibimo. Kuo vertikaliau pastatytas, tuo daugiau sukibimo.
Geriausias pradinis taškas yra tuomet, kai priekiniai amortizatoriai yra pastatyti kuo vertikaliau, o galiniai kuo daugiau pasvirę. To priežastis yra ta, jog taip mes priversime važiuoklę slysti lengviau ir galėsime labiau ją kontroliuoti. Amortizatoriaus nustatymai yra pakankamai komplikuotas reikalas ir reikalauja nemažai laiko jiem tinkamai nustatyti. Praktinė taisyklė. Nekeiskite amortizatoriau tvirtinimo skylės ne daugiau kaip po vieną ir reguliuokite vienu metu tik priekinių arba galinių amortizatoriu poziciją. Būtent taip jūs pajusite skirtumą. Jeigu jūsų amortizatoriai ir spyruoklės yra puikiai nustatyti, važiavimas skirtingose trasose gali pareikalauti trupučio nustatymų, amortizatorių tvirtinimo viršutiniuose taškuose.
Važiuoklės aukštis ir aukščio skirtumo kampas.
Žema važiuoklė - daugiau stabilumo
Aukšta važiuoklė - modelis labiau "gyvybingesnis"
Važiuoklės aukštis turi labai didelę įtaką valdomumui. Kadangi važiuoklės aukštis RC modeliuose reguliuojasi per spyruokles, tai spyruokliu apkrova ( sunkio kiekis, kuri gauna spyruoklės modeliui stovint vietoje) keičiasi. Yra būdu apeiti šiai dilemai, tačiau tai reikalauja daug laiko ir aplamai, tai yra sudėtina pasiekti.
Kalbant apie aukščio skirtumo kampą, tai jis susidaro kuomet važiuoklės priekis yra aukštesnis arba žemesnis uz galą arba atvirkščiai. Tarkim, jeigu priekis ir galas yra vienodo aukščio tai ir pakrypimo kampas lygus 0. Atvirkščias pakrypimo kampas yra tuomet, kai priekis yra aukščiau negu galas. Tai leidžia geriausią vairo valdomumą ir priverčia modelio galą paspaudus gazą, pritūpti, o tai lygu geresniam sukibimui ir kontrolei.
Droop'as.
Važiuoklės judėjimo kiekis, kuomet modelis yra pakeltas į orą.
Daug apie jį nerašysiu, nes tai visiškai nebūtinas parametras rc drifte. Todėl, jei yra galimybė, išsukite Droop'o varžtus.
Amortizatorių tepalas.
Kuo klampesnis tepalas, tuo lėčiau dirbs amortizatoriai (tai atsispindi jautresnėje gazo kontrolėje), kuo skystesnis tepalas, tuo daugiau stabilumo.
Tepalo klampumas amoritizatoriuose atlieka labai svarbia rolę. Dažnai atrodo, jog klampaus tepalo turėjimas amortizatoriuose yra viskas ko reikia. Na, iš tiesų tai, keičiant tepalo klampumą, tam kad suderinti su važiuojamąja danga, keičiamas ir valdomumas tarp labai prasto ir puikaus. Tepalos keitimas yra pakankamai paprasta procedūra, kadangi tam kad juos pakeisti, jums tereikia atsukti amortizatoriaus viršutinę "kepurėlę", išpilti seną tepalą ir supilti naują. Tik nepamirškite jų tinkamai nuorinti!!
Geriausia yra turėti du komplektus amortizatorių su skirtingo klampumo tepalais.
Štai rekomendacijos nuo kurių reiktu pradėti amortikų tepalo parinkimą:
Priekis/Galas
Mažo sukibimo danga 600/500 - Vidutinio sukibimo danga 450/350 - Didelio sukibimo danga 350/250 - Kilimas 250/200
Modelio svoris.
Pridedant papildomo svorio į važiuoklę ar kėbulą, galime pakoreguoti modelio svorio balansą.
Tačiau, kuo daugiau svorio mes dėsime, tuo labiau modelis važiuos "iš inercijos", ko pasekoje jį bus sunkiau suvaldyti.
Geras kelias eksperimentuojant yra žaisti su 50g svoriu ir slankioti jį po važiuoklę, kol atrasite tinkamą tašką. Svorį stenkitės kabinti kuo žemiau, dėl svorio centro. Jeigu ketinate svorį kabinti ant kėbulo, tai kabinkite jį ant kėbulo viršuje per centrą. Taip bus pasiektas geriausias balansas.
Counter steering'as
Tai priekinių ir galinių ratų sukimosi greičio skirtumas.
Didelis CS geriausiai panaudojamas mažose trasose. Mažesnį CS patartina naudoti didesnėse trasose. Taip jūs lengviau išimsite didelius posukius ir bus lengviau palaikyti gerą slydimo trajektoriją.
Counter steering'as realybėje yra kuomet mašina pradeda slysti ir tu susuki vaira pilnai priešinga slydimo kryptimi, tam, kad galėtum išsitiesinti. CS (arba kaip Japonai vadina "Ketsu-Kaki", kas reiškia "šiknos kampas") rc drifte, yra reiškinys, kuomet galiniai ratai sukasi greičiau negu priekiniai. Pavyzdžiui, jeigu pas mus CS yra 2.0, tai galiniai ratai suksis 2 kartus greičiau negu priekiniai. To pasekoje natūralu, jog modelis pradės oversteer'inti ir jūs būsite priversti ratus susukti priešinga slydimo krypčiai kryptimi, tam kad išimtumėte posūkį ir neužsisuktumėte.
1.1 - 1.3 CS
Pagrinde naudojamas didelėse trasose, kur yra mažo sukibimo danga. Šis CS kiekis leidžia puikiai kontroliuoti modelį, pasitelkiant trupucio "uodegos" valdymo norint išlaikyti slydimo trajektoriją. Tai taip pat yra geras pradedančiūjų RC drifterių CS taškas, vien tam, kad pajustumėte, kas per dalykas yra tas Ketsu-Kaki smile emoticon
1.4 - 1.6 (rekomenduojamas)
Naudojamas mažose, vidutinio dydžio ir net didelėse trasose. Šis CS intervalas yra puikus tuom, jog su juo galima daug kur važiuoti. Važiuojant su tokiu CS, modelis važiuos žymiai panašiau į tikrą, galu varomą automobilį. Tuo pačiu, modelio nustatymai bus žymiai svarbesni, o ką jau kalbėti apie padangų pasirinkimą ir valdymo techniką.
1.7 - 2.0 +
Dažna nuostata, jog kuo didesnis CS, tuo didesni valdymo sugebėjimai. Didelis CS naudojamas mažose trasose . Važiuojant su dideliu counter steering'u, galime būti labai tikslūs nusistatant slydimo trajektoriją, tačiau žymiai pasunkėja galimybė ją keisti, tai pat sudėtingiau važiuojant porinį važiavimą.
Tiek šiam kartui.
Tekstą vertė Teodoras
Org. teksto autorius - Mitto (MST UK)
APAČIOJE RASITE TA PAČIĄ INFORMACIJĄ ANGLIŠKAI TIK SU VIDEO PAAIŠKINIMAIS.

CAMBER "the leaning angle of a wheel between the top and bottom edge"
summary: big camber gives less grip, small camber gives more grip
---
In simple terms: "more camber gives you less grip and less camber gives you more grip"
However, since RC drift tyres will ultimately wear down flat (because they are solid plastic) you will end up with 0 camber. So running huge camber is relatively pointless unless you are using tyres for a short time or running on a very hard surface that will not wear the tyres down quickly. For example, running a very hard tyre (GA26) on polished marble. Positive camber is not generally used, so for RC chassis and full size cars, any camber figure you read will usually be negative.
Running with a lot of negative camber (5~10*) will make the chassis feel very light and agile, but at the expense of making it feel twitchy and a little unpredictable. Low camber figures will make the chassis more "planted" but can feel a little dull. However, tuning of the other components can have a huge bearing on that.
---
CASTOR "the distance the wheels centre of rotation is from the contact patch on the ground"
summary: high castor figures give sharp response, low caster figures give less response but more stability.
---
Castor is one of the more difficult concepts to figure out. But in simple terms it can be thought of as "steering response tuning"
High castor will result in quick response, but stability will suffer and the chassis will be more prone to oversteer.
Low castor will result in slower response, but more stability and front end "pull" on lock, giving you a slightly understeery feel.
MST chassis also have the ability to adjust rear castor. Since the rear wheels do not steer, rear castor does not have a strong dynamic effect (turning left to right) but rather, lets you adjust how aggressive you want the rear of the chassis to be.
Running high castor figures will give you more throttle response grip (the chassis will react more quickly to trigger / throttle input) but also requires a higher level of throttle control as the chassis is more likely to run away from you or go out of control. Lower figures, of course mean more stability but less overall response.
---
TOE "the angle at which the wheels point inwards or outwards from the centre-line of the chassis"
summary: toe in gives you stability, toe out gives you initial response
---
Toe is a great way to tune your chassis. Small adjustments can make a huge difference in terms of response and stability. MST chassis' have adjustment over front and rear toe, but the effect of both front and rear is the same.
TOE IN: will result in a very stable chassis with moderate response. Too much toe in will result in a dull feeling and understeery chassis.
TOE OUT: will result in super fast direction changes and high response. Too much toe can make you understeer a lot or make it difficult to maintain a long drift.
As a general rule, a small touch of toe in is recommended on the rear, while a touch of toe out is recommended on the front. It's fun to adjust toe, because it's very quick and simple to do, so have a play round with settings till you get the feel that you want. Even small 0.5* adjustments will have a big effect, so just try 1/4~1/2 turns as you go smile emoticon
Lots of toe on the front wheels will have an effect on your Ackerman angle...
---
ACKERMAN "the difference in angle between the leading and trailing wheel"
summary: big Ackerman angles give quick direction change but make it difficult to hold angle. low Ackerman angles allow you to maintain a drift but slow down response
---
Ackerman is unfortunately, pretty complex. But for the purposes of our drift cars, it can be simplified to "the difference in angle between the lead wheel and trailing wheel" since the rear wheels are spinning smile emoticon
Ackerman is usually used to increase or decrease the resisting force of the trailing wheel and adjust the response of the steering.
During normal "racing" style driving, the lead wheel of a car will travel a shorter distance than the outer wheel going around one corner. So for example, if you are running a lot of toe out, the trailing wheel will be on a small angle, the lead wheel will be at full angle. Since we are drifting, usually large Ackerman angles become a hindrance if you are trying to maintain speed, or create a realistic looking drift. Which is very different to the regular "racing" principal.
However, adjustment of toe settings or the use of anti-ackerman knuckles can have amazing effects to resolve the issue!
---
SCRUB RADIUS & STEERING AXIS INCLINATION "the rotational movement of the knuckle when steering"
Summary: a wide scrub radius gives quicker turn in, a small scrub radius gives better overall control
---
Steering axis inclination is a pretty tricky subject, since it can have a huge bearing on how a chassis drives and reacts to your controls. It's something you will have to play with yourself once you have all the basics worked out. Wheel offset, spacers, king pin inclination, etc... all have a bearing on the SAI angle.
It's good to understand the theory on this subject though, because lots of things you will change will alter your scrub radius. For example:
11mm offset wheel, normal lower arms or 8mm offset wheel with track width extended 4mm will result in the wheel being in the same position, but the scrub radius will be very different!
---
TRACK WIDTH & WHEEL OFFSET "the width of the chassis and the distance at which the wheel sits from the knuckle"
Summary: wider gives more grip when sideways, but can dull response and create too much forward drive
---
Track width and wheel offset, as previously mentioned, also have a bearing on the scrub radius (as previously mentioned) but also, control dynamic factors such as roll, roll centre and weight transfer.
Increasing the track with involves extending both the upper an lower arm attaching to the hub, as well as toe (steering) arms assuming you only want to make the chassis wider and not change the geometry settings (camber, etc...) A wide track will allow LESS dynamic changes in suspension geometry while you are driving your chassis. This is because, the further away the hub is from it's axis point on the chassis, the slower it will travel in a radius.
To understand this theory, grab a pen or a pencil, hold the tip with your left hand and hold it about and inch away with your right. Move the pencil up and down like a suspension arm. Now move your right had 5~6 inches away and move it up and down again. What you should notice, is that the further away you move your hand, the longer it takes for the angle you are holding the pencil at with your right hand takes to change.
Because of this, many RWD chassis (like BMWs) have very long arms connecting to the hubs and in turn, should explain the a wide track width gives you more stability and predictability! However, it is at the expense of response and feeling.
Wheel offset, unlike full size cars, gets wider as the numbers go up. so a 3mm offset wheel will sit much narrower than a 11mm offset wheel. (full size cars go positive and negative in terms of offset) Offset is the distance at which the wheel outer is from it's centre-line.
Increasing wheel offset make the chassis wider, but also, the higher the offset, the more dynamic movement you will create. Because the wheel moves away from the knuckle, it turns on a wider arc that a smaller offset wheel. If you have altered the SAI or kingpin angle, you will also change the rotational dynamic of the wheel as it turns. As mentioned in the SAI video above.
---
DAMPER POSITIONS "the angle at which the damper sits between the upper mount and lower arm"
summary: laying dampers down gives less grip, standing them up gives you more grip.
---
As a starting point, it's best to start tuning with the front dampers fully upright and the rear dampers laid down as flat as possible. The reason for this is to make it easy to get the chassis sliding and keep control. As a general rule:
Dampers laid down = less grip
Dampers stood up = more grip
Damper settings can be a little difficult and time consuming to get right. As a rule of practice, don't adjust your damper mounting points more than one hole at a time and only adjust the front or the rear at one time, never together. This way you will get a feel for exactly what this will do for your drive. If you have well set dampers and springs, going between circuits may only involve a tweak of damper mounting positions to be on top form!
---
RIDE HEIGHT & RAKE ANGLE "the distance the chassis sits from the ground and the difference between front and rear"
Summary: low ride height gives you more stability, high ride height makes the chassis more lively!
---
Well here is a surprise for you... ride height has a dramatic effect on handling! grin emoticon Since the ride height on RC cars is generally adjusted via the spring, then spring pre-load (the amount of tension the spring is under when the chassis is not moving) is effected. There are ways around this, but generally they are very time consuming and difficult to achieve.
In most cases, what's known as a "reverse rake angle" is suitable for drifting. Rake angle is the angle between the height of the front and rear of the chassis, so if the front and rear of the chassis are at exactly the same height, this would be considered as zero rake angle. Reverse rake (since most racing cars run with the front lower than the rear) is running with the back of the chassis low and the nose up. This gives the best steering response and promotes rear end squat on power, which gives you good grip and control.
This isn't fixed though and sometimes you will run zero or normal rake angles, but it's definitely a good starting point smile emoticon
---
DROOP "the amount of travel the suspension has when lifting the chassis, before the wheels leave the ground"
Summary: remove droop screws!
---
Here at MST HQ, we do not run droop screws. Unlike racing cars, drift cars need a lot more pitch, dive and roll. Since we use low grip tyres, it's important to keep as much of the tyres contact patch on the ground as possible.
Droop, is basically the amount of travel that a damper can travel when the load is taken off the wheel. If you lift one end of your chassis, you will (should) notice that the chassis can lift a good few mm, before the wheels actually leave the ground too. That is droop. A good way to see this working in action, is to press down on one corner of the chassis, you will see the corner diagonally opposite (ie. if you press front left, then look at rear right) lift away from the ground and obviously, leave you with less traction!
That's why we don't run droop screws on our chassis'.
---
SHOCK OILS "Silicone based oil that goes inside your suspension damper to control the speed at which the move"
Summary: heavy oils result in slower travel (more accurate throttle control) light oils result in quicker travel (more stability)
---
Shock oil, is effectively the "life blood" of your chassis and will determine everything the overall feel and response you get. A lot of the time, it seems, is that having oil in a damper is enough. Actually, changing your damping to match the surface that you are using is the difference between brilliant handling and terrible handling. Oil's are relatively simple to change, since you only have to take the damper top caps off. Personally, if I change oils, I don't bother stripping and cleaning out all the oil from a damper, when you are testing, just pour it out and fire the new stuff in, it will all blend and mix anyway, it's better than you make the change and learn from it.
Best case scenario: have two set's of dampers with different weights of oil in them already set up! That's the posh way of doing it though.
Here are some recommendation to work from: Front / Rear
LOW GRIP #600/#500 - MEDIUM GRIP #450/#350 - HIGH GRIP #350/#250 - CARPET #250/200
---
WHEEL BASE "the distance between the front and rear knuckles"
Summary: A long wheel base will give more control but a slower direction change, a short wheelbase is more aggressive, but less stable.
---
This adjustment is pretty simple and also very effective if you want to change the balance or overall dynamic of your chassis. By flipping your arms around you can create a short wheelbase, super long wheelbase or bias front/rear as suits you.
A long wheelbase will give you lots of stability, but also dull the direction change. This is because the longer wheelbase takes more time to react. Think of it this way, if you have a long and short wheelbase chassis next to each other, you put them both on full lock and move them slowly in a circle, the long wheelbase chassis will turn in a wider radius than the short wheelbase, because the wheels are further apart!
A short wheelbase will give you quick response and super fast direction changes, but will be more difficult to control.
Ultimately, a long wheelbase is great for large circuits and short wheelbases are great for tighter more technical circuit.
---
ROLL CENTRE & SQUAT CONTROL "please read the complete section"
Summary: high in the front, low in the back.
---
Roll centre is a pretty complex subject, because it gets into the world of suspension theory and hypothetical axis' where different points of the suspension meet. In a drift chassis, a low roll centre is recommended in the rear and a higher roll centre at the front. A low roll centre allows more roll, and promotes stability in terms of actual control, a high roll centre allows more movement and creates a little more "wash" or slip.
Many factors will effect the roll centre, so it's best to get a set up you like running standard suspension and then add or remove shims to create the perfect dynamic to suit your driving.
Squat is what happens when you accelerate and you see the rear of the chassis dropping down. Adjusting squat (which is usually in direct relation to roll centre adjustment) alters the way in which you chassis provides traction and the amount of traction it is capable of providing. This is adjusted by adding shims on the lower arm inner mounts changing the angle of the rear arm.
---
WEIGHT & BODY ROLL "Increasing body roll and altering the roll centre using weights"
Summary: heavy cars give you more control, but require better technique and settings.
---
Adding weight to your chassis or body can achieve that last little touch of balance or transfer that you need. However, the more weight you add, the more the chassis will push on, with bad settings or weight placement, this can cause understeer, oversteer or general poor handling.
You can place weight anywhere on your chassis, but try to keep it on the centreline unless you are balancing the chassis left to right on corner weight scales!
A good way to experiment, is to make a weight around 50grams and move it around the chassis. Do 4~5 laps with it in one place, then move it, this way you will learn the difference that the weight balance makes smile emoticon
If you are putting weight in the body, you should be putting it in the roof and in the central point between all four wheels. This will create a balanced effect in terms of roll. Here's a rough way to find the centre point:
photo20.jpg
---
ANTI-ROLL BARS "limit the amount of roll of a chassis left to right to maintain more constant contact with the road surface"
Summary: Using anti-roll bars can calm down an unpredictable chassis
---
Anti-roll bars are designed to do exactly what the name suggests. Limit roll. Running anti roll bars can settle down a particularly soft or roll prone chassis, but also, if very very stiff anti-roll bars are used, you can also create more slide, by limiting the chassis ability to transfer grip from side to side. ARBs are a great way to make dynamic changes to your chassis handling without having to adjust any other components.
---
COUNTERSTEER (CS) "the difference between the rotating speed of the front and rear wheels"
Summary: high CS makes drifting very small tracks simpler, but require less technique, lower CS requires better technique and gives more line control.
---
Well counter steer... you should know what that is if you have made it this far in the guide! If not, counter steer is what you do when a full size car begins to slide, you naturally turn the wheels into the slide to recover. So for example if you are going around a right hand bend and the rear of the car steps out, you will turn the wheels left to "counter" the effect of the slide. Hence, Countersteer or CS.
CS (or as the Japanese call it "Ketsu-Kaki" literally meaning "Ass Angle") in RC cars, refers to the difference in wheel speed between the front and rear. Although our chassis start out with the front and rear wheels turning the same speed (50:50) you can use gears to reduce the speed at which the front wheels turn, to the point where the rear wheels make 2 complete rotations for every single rotation of the front wheels. The effect of this, is that the car will naturally oversteer, the result of which, is that you are forced to drive it with countersteer. Very tricky, but very rewarding! We offer CS from 1.1 to 2.0.
1.1 ~ 1.3
Used for large or medium circuits and low grip surfaces. This level of CS gives great control, with just a little bit of rear end punch helping you maintain your drift and change directly quickly. It's also a great starting point to get used to the feeling of CS.
1.4 ~ 1.6 (RECOMMENDED)
Used for small, medium or large tracks, this range is the most versatile and capable, making your chassis perform much more like a rear wheel drive car. Settings become much more important with this level of CS and does your tyre choice and driving technique.
1.7 ~ 2.0 +
It's a common misconception, that running high CS figures equate to a high level of driving skill. High CS figures are more specific to tighter tracks where running only a single line is possible. You have the ability to be very accurate with high CS figures, but it becomes very difficult to change lines and adapt when running twin drift. Very high CS figures over 2.0 are considered to be a little selfish, because while being a lot of fun for the person driving, it becomes very frustrating for other drivers trying to join in. Of course, that changes on a very small low speed track!
INFORMACIJOS AUTORIUS MITTO IŠ:
http://www.maxspeedtechnology.co.uk/